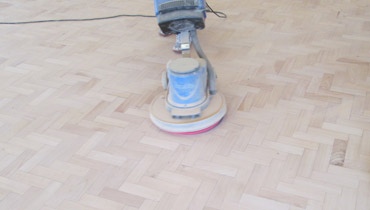 Many homeowners and businessman dream of having gorgeous, classy wooden floors. However, once installed the floor, most of them forget it's not everlasting and you actually have to look after the wood, to maintain its stability and great look. That includes some sanding and restoration services on a regular basis. Watch out though, floor sanding can only be done a couple of times, depending on the wood.
Parquet sanding can be especially tricky, so do not trust the average online tips on how to handle it on your own. You may save some money, but it's wiser to delegate this task to professional, so you can enjoy the best possible results. Our experts have solid experience in the field, great work for moderate costs is guaranteed.
Assuming that a lot of potential clients would simply ignore our offer with a touch of scepticism, we've decided to sum up the entire sanding algorithm for you, in order to give a clearer view of the whole thing, and the skills needed for the job.
Similar to other home repair and improvement tasks, meticulous prep is the key to success, as well as using the suitable machines, tools and products. Devoting enough time to get the work done is also imperative. To start with, the entire floor should be examined for unstable blocks, which may not be firmly attached to the underfloor, they are usually the prime suspects when it comes to squeaky sounds or stability issues. It's entirely possible and quite common for the boards to have small gaps between them, developed with the time. The sanding preparation stage is the most convenient one for taking care of these gaps and glue down any loose planks.
It's also crucial to clean thoroughly the whole base with a detergent that dissolves wax, especially if it's an old one. Usually, there are several layers, which would simply impede the sanding machines. If installing a brand-new parquet, the underfloor should be cleaned and levelled as well.
А concern any homeowner should clear out in advance, prior to the sanding procedure is the current thickness of the wood. It is helpful to know the number of times so far the parquet has been sanded or if it has been restored in any way at all. If our machines scrub out too much material, that could uncover tongues and grooves. To avoid any trouble, we usually try to go as fine as we can.
Staining is recommended for any wood, as it provides extra protection by sealing the timber itself. Our handymen stain the surface in sections and we always work toward the doorway, so that we don't step on the recently stained floor. Most stains need to be left overnight to dry.
Last step is the finishing procedure. Choosing the most suitable product is really important at this stage. Usually, oils and waxes are highly recommended, as they show off best the beauty of the restored floor. At the same time, they create a protective layer, preventing dirt and moisture from penetrating deep into the wood and possibly ruining it. Usually, a couple of coats are required; the last one must be left un-sanded.
This is just a quick resume of the sanding routine. For further details and additional information, contact us at 020 70360610, schedule an appointment, get yourself an amazingly looking parquet, now!