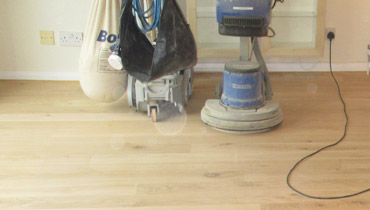 Talking about wooden floors, many homeowners consider solid wood to be the best option. Trust our advice here, solid wood is difficult to install (you would need to hire a professional company to install it) and not very resistant to environmental factors. Laminate, on the other hand, is nice, lovely, relatively cheap, but, let's face it, it's simply NOT wood and very prone to all types of scratches. There is one alternative option, combining the best characteristics of both solid wood and laminate: engineered flooring.
This product looks like solid wood but in reality, we are talking about plywood with a wood veneer glued on the top surface of the core. It can be found in any hardwood species: hickory, oak, bamboo, maple, etc. When deciding what type of flooring you would like installed, you should take into consideration some really big advantages engineered floors have. First of all, it has the natural look and character of real wood at a lower price. Secondly, it's pretty stable and more resistant to moisture and heat in comparison with solid wood or laminate. Regarding the price, a laminate is the cheapest option, however, engineered wood floors are a better investment in the long run, as they could be sanded regularly to revive the timber and rub out scratches.
They are better installed on a concrete subfloor, either glued-down or laid as a floating floor. At this point, practical homeowners or businessmen thinking of future maintenance costs might be asking themselves. Is it possible to sand and refinish engineered wood? This is a reasonable question. Most of the times, the answer is yes, however it all depends on the thickness of the hardwood layer. It could endure 1-2 or more regular engineered wood floor sanding procedures.
The main factor that plays here is that you only have a few millimetres of natural wood to work with, which complicates the sanding task, therefore you better leave it in professional hands. The real wood top layer is usually rather thin (3-6mm) and the process needs to be precise, to keep the sanders away from the plywood.
There is this whole ocean of knowledge we have about wood flooring, we are the size and wood types experts, we know about colours, wood products and techniques used to renew the timber. We guarantee you we know everything there is to know about the Kensington engineered floor sanding and its restoration specs and techniques. We approach every engineered surface as gently as possible, no matter if the top layer's current condition. We'd like to stress on this specification one more time, hoping we'd convince our clients to save themselves the stress and possible ruin of their floor if the layer turns out to be too thin and they sand straight through it. Once more, get yourself a professional.
Last but not least, we offer quality Kensington engineered wood floor sanding at affordable prices and reasonable terms and the results are worth the wait. Enjoy a free quote and professional advice directly from our experts! Call us at 020 70360610, to arrange a free visit for assessment of your floor. We'll do our best to meet your expectations!