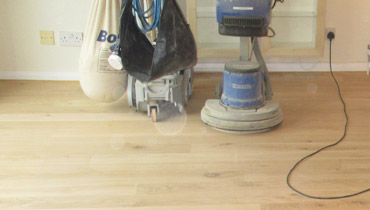 Talking about wooden floors, many homeowners consider solid wood to be the best option. Trust our advice here, solid wood is difficult to install (you would need to hire a professional company to install it) and not very resistant to environmental factors. Laminate, on the other hand, is nice, lovely, relatively cheap, but, let's face it, it's simply NOT wood and very prone to all types of scratches. There is one alternative option, combining the best characteristics of both solid wood and laminate: engineered flooring.
Why Engineered Wood Sanding Is Our Job
This product looks like solid wood but in reality, we are talking about plywood with a wood veneer glued on the top surface of the core. It can be found in any hardwood species: hickory, oak, bamboo, maple, etc. When deciding what type of flooring you would like installed, you should take into consideration some really big advantages engineered floors have. First of all, it has the natural look and character of real wood at a lower price. Secondly, it's pretty stable and more resistant to moisture and heat in comparison with solid wood or laminate. Regarding the price, laminate is the cheapest option, however, engineered wood floors are a better investment in the long run, as they could be sanded regularly to revive the timber and rub out scratches.
What to Expect When Hiring Our Expert Engineered Wood Floor Restoration Team
They are better installed on a concrete subfloor, either glued-down or laid as a floating floor. At this point, practical homeowners or businessmen thinking of future maintenance costs might be asking themselves. Is it possible to sand and refinish engineered wood? This is a reasonable question. Most of the times, the answer is yes, however it all depends on the thickness of the hardwood layer. It could endure 1-2 or more regular engineered wood floor sanding procedures.
How We Sand Engineered Wood Flooring
Sanding will completely remove finer scratches, dents and gaps, old and worn finish and stain and other imperfections from the surface of the floor. In result, you can enjoy a completely uniform and smooth surface, ready to be transformed in the way you would like thanks to refinishing and optional staining. In fact, engineered wood floor restoration is considered to be a tricky and risky project, because every plank is made with a thin hardwood top layer and there is the risk of ruin the boards if over-sading or significantly increasing their durability and strength. Don't worry, because we can promise you that will never happen, we are precise and work with attention to details and have enough experience to deal with every type of wood flooring the proper way.
The main factor that plays here is that you only have a few millimetres of natural wood to work with, which complicates the sanding task, therefore you better leave it in professional hands. The real wood top layer is usually rather thin (3-6mm) and the process needs to be precise, to keep the sanders away from the plywood.
There is this whole ocean of knowledge we have about wood flooring, we are the size and wood types experts, we know about colours, wood products and techniques used to renew the timber. We guarantee you we know everything there is to know about the Kensington engineered floor sanding and its restoration specs and techniques. We approach every engineered surface as gently as possible, no matter if the top layer's current condition. We'd like to stress on this specification one more time, hoping we'd convince our clients to save themselves the stress and possible ruin of their floor if the layer turns out to be too thin and they sand straight through it. Once more, get yourself a professional.
Why Done It Professionally?
There is always the option to hire all the equipment you need for an engineered wood floor sanding and refinishing project and attempt a DIY project. However, this is definitely not recommended as every DIY project may end up being a total nightmare, especially if you don't have any previous experience. Our experts have a ton of experience and knowledge under the belt. They will use the right types of abrasives, focusing on removing only the old layer of worn finish and imperfections from the surface of the floor and retaining the top layer of the floorboards themselves as much as possible. This will leave the floorboards with their initial thickness and strength, which will allow a new sanding service in future and more decades for you to enjoy your beautiful and contemporary floor.
Check Out Our Portfolio of Wood Floor Services
As an experienced leader in the wood floor services and industry in Kensington, we have years of experience catering for a wide range of services designed to improve all types of wood flooring. Here are just a few examples of the beneficial services we can deliver:
Initial inspection of the floor and its condition is always included for every new project we start. It gives us the chance to determine the best and most necessary treatments required according to the condition of the floor.
Wood floor repair takes care of all the major and minor issues and imperfections. It minimizes the risk of smaller issues growing bigger and causing a significant problem. There are major wood floor repair projects that cover the entire floor and spot repairs that usually include replacement of the too damaged floorboards with new ones.
Wood floor sanding is the perfect solution for refreshing the look of older and worn solid wood, engineered wood, and parquet floors. Sanding removes the layer of old finish on top of the floor along with all imperfections on the surface and prepares the bare wood floor refinishing.
Wood floor refinishing is the application of a sealing product that improves the floor visually and ensures extra protection and preservation of the original colour and texture of the wood species.
Wood floor staining can either intensify and enhance the natural colour of the wood species or completely change it.
Gap filling is great for improving the structural integrity of the floor and improving the insulation.
Wood floor recovering is designed for oiled and waxed wood floors and does not require a stressful and messy sanding service beforehand.
How Often to Hire an Engineered Wood Floor Sanding Service?
Depending on the thickness of the top layer of the engineered wood planks, the floor can be sanded up to four times in its lifetime. This means you can enjoy an engineered wood floor that looks brand new for many decades.
Engineered wood floorboards with a top lamella layer of three mm can be sanded only once.
Commonly, you can recognise if the engineered wood floor has a top layer of three mm when the planks are with two or three strips.
Hardwood floors usually come with an eighteen mm thick plank and can be sanded up to the tongue and groove which means a sandable depth of approximately seven mm. This is almost as much as six mm engineered wood flooring.
Last but not least, we offer quality Kensington engineered wood floor sanding at affordable prices and reasonable terms and the results are worth the wait. Enjoy a free quote and professional advice directly from our experts! Call us at 020 70360624, to arrange a free visit for assessment of your floor. We'll do our best to meet your expectations!