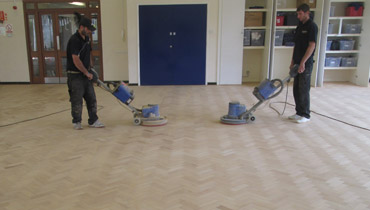 These days, a wooden floor seems to be the best option for many commercial buildings. If you think about it, it's quite common in shopping malls, hotels, restaurants, museums, gyms, etc. The list of benefits a wooden base can offer is quite long: it's practical, hygienic; maintenance is pretty easy, it adds value to the building and makes the whole atmosphere classier and cosier. The stability and natural beauty of wood are, without a shadow of a doubt, monumental. Wood can look spectacular; it adds prestige to public premises, it makes personnel and visitors feel welcome into a friendly, homey environment. What's more, they fulfil any health and safety requirements there might be.
These are just some of the benefits of commercial wooden flooring, which confirm it is a wise and profitable to make such an investment, both in the short and long run. Of course, it requires proper maintenance, in order to keep its beauty, as timber inevitably wears out as time passes by. Hiding the wood's potential under the carpet isn't a solution, professional sanding is what you need. We are talking about a simple procedure that renovates the floors and restores their former beauty. It's always a good idea to trust an expert to handle any restoration tasks, especially when dealing with large-scale projects.
Generally, business owners opt for hiring a professional agency to tackle the sanding task, mainly because of the scale of the undertaking. In addition, it can be really difficult to achieve uniform layers on bigger surfaces, no matter the timber (parquet, solid wood, etc) so it's best not to be assigned to amateurs.
It includes the following stage:
Removing the old top layer of sealant back to bare wood.
Leveling and evening the surface
Staining, to manage the colour client has selected
Final finishing and sealing, to create a protective layer, against environmental factors.
Trusting our professionals is the best choice here and let us explain why:
We have many years of experience in the wood restoration industry, check out our portfolio to see some of the worn wooden floors we've transformed successfully into lovely features. We handle all kinds of timber, no matter its current condition. We've handled both domestic and commercial projects and have worked for many corporate clients.
We try to make the process as fast and less disturbing as the surface allows. We know time is precious for any business, all customers insist on resuming their daily routine as soon as possible, so we do our best. However, we can't skip the drying period required for stains and lacquers applied after sanding. We adjust our work to your schedule, individual requirements and preferences. Being flexible is our professional mission; we take overnight shifts and work during the weekend as well.
We offer a free first visit to your business premises to become familiar with the field and discuss any issues related to the restoration process. We provide samples of materials and products we use, so you can choose the best option for you.
We give attractive discounts for bigger projects.
So, if you want to save yourself stress and efforts, take care of your floors right away, get the professional look you've always dreamed of. Get in touch, have yourself a free quote from the source. Call us at 020 70360610!