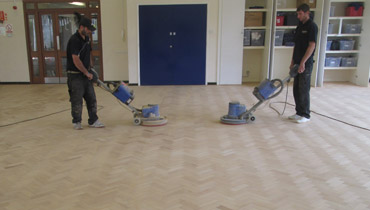 These days, a wooden floor seems to be the best option for many commercial buildings. If you think about it, it's quite common in shopping malls, hotels, restaurants, museums, gyms, etc. The list of benefits a wooden base can offer is quite long: it's practical, hygienic; maintenance is pretty easy, it adds value to the building and makes the whole atmosphere classier and cosier. The stability and natural beauty of the wood are, without a shadow of a doubt, monumental. Wood can look spectacular. It adds prestige to public premises, it makes personnel and visitors feel welcome into a friendly, homey environment. What's more, they fulfil any health and safety requirements there might be.
These are just some of the benefits of commercial wooden flooring, which confirm it is wise and profitable to make such an investment, both in the short and long run. Of course, it requires proper maintenance, to keep its beauty, as timber inevitably wears out as time passes by. Hiding the wood's potential under the carpet isn't a solution, professional sanding is what you need. We are talking about a simple procedure that renovates the floors and restores their former beauty. It's always a good idea to trust an expert to handle any restoration tasks, especially when dealing with large-scale projects.
Years of Experience in Commercial Floor Sanding and Restoration in Kensington
Among our satisfied commercial clients, you can find some popular names in Kensington, which are known for their good reputation of leading businesses with attention to details and professional approach. We have so much experience in working on large-scale projects, including:
Offices and working places
Schools and universities
Museum and other public premises
Gyms and entertainment centres
Restaurant and hotels
Showrooms and retail stores
Generally, business owners opt for hiring a professional agency to tackle the Kensington commercial floor sanding task, mainly because of the scale of the undertaking. Also, it can be really difficult to achieve uniform layers on bigger surfaces, no matter the timber (parquet, solid wood, etc) so it's best not to be assigned to amateurs.
This High-Quality Commercial Floor Restoration Service Includes…
Of course, every project has its individual and specific requirements and needs. However, we are able to cover a really wide range of different professional services dedicated to improving the condition and appearance of every commercial wood floor, including:
Overall repair of the floor, including water damage repair, replacement, dealing with cupping and ballooning, warped edges of the floorboards, loose and broken boards, etc.
Spot repair of only the damaged floorboards in high-traffic areas. We will find and supply the perfect match of reclaimed or new wood that will guarantee the even and uniform look of the entire floor.
Gap filling for bringing back the stability and durability of the wooden floor, minimizing the risk of major issues and problems, improving the insulation properties of the floor.
Wood floor sanding for removing the top layer of the floor that gives it this damaged, sad, dull, and aged look. Wood floor sanding is designed to get rid of the old finish and all imperfection and issues on the surface of the floor and leaving the surface extra smooth, even, and beautiful.
Wood floor refinishing that ensures amazing and lasting protection and adds a lot of elegance and character to the wooden floor.
Wood floor staining for enhancing the natural colour of the wood species or completely transforming it into something new and exciting.
Wood floor recoating for wooden floors that have been previously finished with oil finish. Perfect for quick touch-ups without the need of time-consuming, stressful and messy sanding service.
Trusting our professionals is the best choice here and let us explain why:
We have many years of experience in the wood restoration industry, check out our portfolio to see some of the worn wooden floors we've transformed successfully into lovely features. We handle all kinds of timber, no matter its current condition. We've handled both domestic and commercial floor sanding projects and have worked for many corporate clients.
We try to make the process as fast and less disturbing as the surface allows. We know time is precious for any business, all customers insist on resuming their daily routine as soon as possible, so we do our best. However, we can't skip the drying period required for stains and lacquers applied after commercial floor sanding. We adjust our work to your schedule, individual requirements and preferences. Being flexible is our professional mission; we take overnight shifts and work during the weekend as well.
We offer a free first visit to your business premises to become familiar with the field and discuss any issues related to the commercial floor sanding process. We provide samples of materials and products we use, so you can choose the best option for you.
We give attractive discounts for bigger projects.
We Use Only Best Quality Products
We don't compromise with the quality and efficiency of the equipment and products we use for every commercial wood floor restoration and sanding service in Kensington. We supply the products we use from all internationally renowned leaders and brands on the market and we are sure that the products we choose to use contribute so much to the flawless results we are striving to achieve. The brands we enjoy working with include:
Bona – Bona is probably the most classic and iconic name in the wood flooring industry when it comes to high-quality products and tools. Some of the products by Bona we love to use are Bona Mega Varnish, Bona Traffic HD, Bona Classic Primer, Bona Primer Amberseal, Bona Prime Deep, Bona Prime Intense, Bona Mega and Traffic Natural.
Junckers – Junckers is yet another reputable and widely known name in the wood flooring industry. Junckers products are not only very high-quality but also very innovative. The products we use for our projects include Junckers Strong Varnish, Junckers BasePrime Primer, Junckers PreLak Primer, Junckers PreLak White Primer, Junckers HP Commercial.
Loba – Loba creates products that are suitable for all types of wood flooring and wood species and ensure easy application and flawless results. Some of the products by Loba we enjoy using include Loba WS Easy Prime, Loba WS Viva One-Component Lacquer, Loba WS Fusion Two-Component Lacquer.
So, if you want to save yourself stress and efforts, take care of your floors right away, get the professional look you've always dreamed of. Get in touch, have yourself a free quote from the source. Call us at 020 70360624!