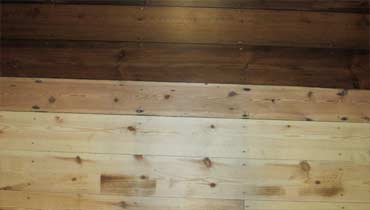 Authentic wooden floors can bring class and enchantment to any room or office. Without a doubt, wood maintenance is mandatory. Our Kensington floor sanding company is dealing with all kinds of the wood restoration process. We have solid experience, expert personnel and many satisfied customers to lean on, all of them pleased with the quality services we've provided and ready to hire us again or recommend to their friends and acquaintances. Our inspiration in the final result of our work – perfectly restored wooden floors.
Dust-Free Sanding Equipment
The procedure of removing a top layer of a wooden floor, using special products and machines. It's the initial phase of the Kensington floor sanding process. Many materials used as a base can endure this intervention, however, we are exclusively specialising in wood floor sanding. Floor sanding is usually organised into three main steps: Preparation, scraping the old cover layer and finishing with a protective sealant. Professional machines are used for all of these, most frequently experts recommend the so-called drum and edge sanders. For the last stage, a finishing machine is used to apply a brand-new shiny layer of wax product.
Unpleasant surprises you could face during and after floor sanding:
It can affect the main characteristics of old floors, resulting in a colour change or inaccurate nuance of the surface at the end of the procedure.
It could denude worm-eaten cores, destroying the overall floor's appearance; this problem is frequent in boards floors. Worst case scenario, you will need to replace the damaged modules.
It removes material, therefore it's not an option for thinner timber surfaces.
Floor Finish With Attention To Detail
If in need of some kind of wood floor restoration, it's imperative to choose a suitable company for the job. Trusting online tips and videos is not advisable. Becoming a sanding-master takes time and efforts. It's easier and wise to call on our Kensington floor sanding company and let confident experts create a gorgeous piece of art in the middle of your living room. A considerable advantage of our working process is the usage of dust-free sanding equipment, which can guarantee that your home or office will remain neat and tidy, once our team is done. It's common for certain parts of the floor to require additional attention. Our company has the right professionals to assist you with any mandatory floor refitting, replacing or repairing you haven't seen coming. Floor staining, sealing, polishing and recoating are some of the services we provide in additional packages, and for attractive prices.
Let Us Restore The Beauty Of Your Parquet, Engineered Floor or Floor Boards
There are many types of wood and each of them has its specs. Therefore the techniques and approach applied during the procedure itself may vary too. Below are some examples to give you a better idea of our work. Engineered wood floors are considered to be a great alternative to hardwood floors, as they look exactly like natural timber, but are pretty resistant to external factors, like moisture and heat. Their flow is the thin top layer, which cannot be frequently sanded. Parquet flooring is a quite complicated base to work with, it's usually considered a challenge, nevertheless, our Kensington floor sanding team always provides outstanding results. Any restoration involving hardwood can end with expansion and wood damage if left unsealed for a long time. Fast hands and professional touch are required. Floor boards are another challenge for any handyman, as they require high-level skills. Also, bugs and worms frequently hide in between them, so it's not the most hygienic option.
Flooring Services for Schools
There is a huge difference when we compare the impressions made by a distressed and worn wooden floor and a fine and well-maintained one. Floor Sanding Kensington's school flooring services can help you make the right kind of difference at a very affordable price. As dedicated school flooring contractors specialising in school floor restoration there is more than one thing that is making us better than the competition. It is the combination of excellent quality, cost-effectiveness and a minimal amount of disruption which only real professionals can guarantee.
If you have any questions about our company, reach out to our support centre at 020 70360624 and our representatives will be happy to assist you. Get a free floor sanding quote now.
---
Interesting: The Victoria and Albert Museum in the Royal Borough of Kensington and Chelsea has the biggest collection of decorative arts in the world with more than 4.5 million objects.
Our Kensington Floor Sanding Services
Very happy. Very good overall.
Wonderful job done. Quick and efficient. Very pleased.
Wonderful job done. Quick and efficient. Very pleased.